Photo: Elina Björklund/Svensk Galopp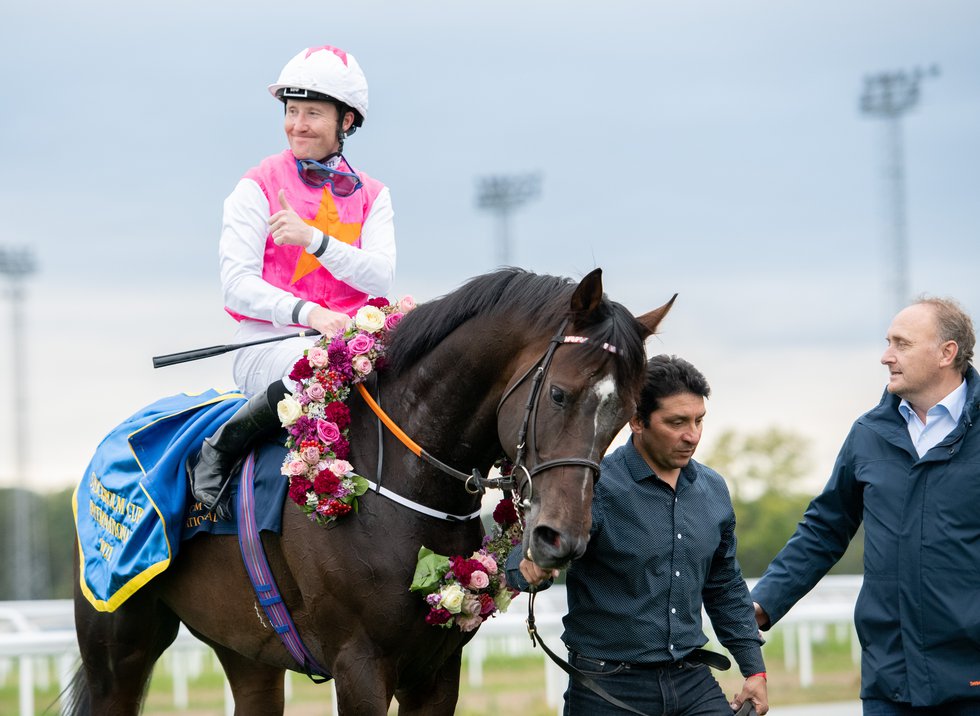 Scandinavian star Square De Luynes has Saudi aim
6 January 2022 11:19
Trainer Niels Petersen harbours global ambitions for 'Frankel of the Fjords', the three-time winner of the prestigious Stockholm Cup International.
Scandinavian star Square De Luynes is on course for a crack at the Group 3 Neom Turf Cup at the glittering Saudi Cup meeting.
Nicknamed 'Frankel of the Fjords' by his adoring fans, the three-time winner of the prestigious Stockholm Cup International is being prepared in Dubai for the $1.5million contest over 2100m on Saturday 26 February by trainer Niels Petersen.
The seven-year-old could be joined by stablemates Kick On and King David at The Saudi Cup meeting, who are both being aimed at the $500,000 Saudi International Handicap on Friday 25 February – a race restricted to horses trained in IFHA-registered Part II and III racing countries, like Norway.
There is no doubt Square De Luynes is the star of the trainer's potential Saudi raiding party and Petersen, a Dane based in Norway, said: "Square De Luynes is the best horse in Scandinavia – by the figures, by his performances, by everything. He's the star of the show here – he's such a popular horse.
"He's got a high cruising speed. He can run over anything from 1800m to 2400m and he's as good on soft ground as he is on fast. He can also go from the front or come from behind, it doesn't matter. He beat the track record at Ovrevoll by a good margin over 1800m in August after 11 months off the track.
"I think the track in Saudi will suit him – left-handed, two bends, it should be spot on – and the 2100m distance should be ideal. That's why we are targeting The Saudi Cup meeting. Looking at last year's Neom Turf Cup, he should be good enough and he's so well in himself."
It had been Petersen's plan to run Square De Luynes, among others, at last year's Saudi Cup meeting, but the harsh Norwegian winter threw a spanner in the works.
This time he was able to ship a select team to Dubai. The horses have been in the UAE several weeks and all three of Petersen's Saudi hopes will have prep-runs at Meydan.
He revealed: "We've been lucky with the weather in Norway this year as we've been able to train them up until we left so that's a big plus. Normally we get a lot of rain in the autumn. When that happens and it freezes you lose everything as the track turns to concrete.
"This year it just turned cold and they were able to get a lot of salt on the track. They also put a lot of new sand down so we could work horses on it – you couldn't race on it but you could do a good canter. It meant we could maintain the horses' fitness which we've been unable to do in other years.
"That's why we couldn't go to Saudi last year. There was no point as it was a hard winter here and the horses lost too much of their condition. You don't take chances with these horses – you need to do it right."
Square De Luynes is owned by the Stall Power Girls – a syndicate made up of some of his owners' wives, including Petersen's own wife. Their distinctive pink colours will certainly stand out on Saudi Cup day.
They have had to be patient as Square De Luynes has suffered with foot problems and ambitious Petersen is taking no chances as he prepares his stable star for a race he hopes will help propel him on to racing's world stage.
He said: "We have to look after him. He's had big issues with his feet – he cracked his hoof in two. You wouldn't believe it unless you saw it. I've got a very good farrier and he's going to fly out to shoe him in Dubai and Saudi. There's so much work that goes into these good horses.
"Pat Cosgrave knows him now and that's why we fly him out to ride him all the time. We don't want to be changing jockeys. You need to know him a little bit. When we're racing in Scandinavia we're in our backyard and we know what we're doing. It's different to go abroad with him.
"Pat has got great belief in Square De Luynes. He says he is a proper Group 2 horse and maybe even a bit more. He's confident he's a horse that will take us worldwide, but he does need to prove it.
"We've had good horses before but to measure up on the international stage is a little bit different. I do think this fella is the guy that can take us there.
"It's no big secret that I'm maybe looking a little bit to get out of Scandinavia in years to come. I've done so much here and I've been champion I don't know how many years. Don't get me wrong, I'm grateful for that and it's been brilliant, but you come to a point when you want to achieve more."
When Square De Luynes won the Group 3 Marit Sveaas Minnelop at Ovrevoll in August, his stablemates Kick On and King David filled the places.
Kick On had won that 1800m contest the previous year having joined Petersen from British trainer John Gosden. He was considered a top-class prospect when he won the Listed Feilden Stakes at Newmarket in 2019 before finishing seventh behind Magna Grecia in the 2000 Guineas.
Now he will join Denmark-bred King David in being aimed at the $500,000 Saudi International Handicap.
Petersen said: "Last year Kick On won four races in a row including the big Group 3 and he's had a good season this year. He's a proven performer at the level. We've got him to relax in behind and finish his races. He's been a super horse and he's good enough to be very competitive.
"King David had a little bit of an off time after joining me from another trainer, but we got him back up to his level this year and he's been very good.
"I think both of them will be suited by the race and you're not meeting the best horses from the main racing countries so it's a little less competitive. The International Handicap obviously has some conditions which we benefit from.
"What they're doing with The Saudi Cup is great. For me it will be a big achievement just to be there to take part. These are the places we want to be and it's not very often you have horses coming out of Scandinavia good enough to do that. It fits in with my ambitions."
Entries closed for all international races at The Saudi Cup meeting on Wednesday 5 January.
The text is a press release from the Saudi Cup