Photo: Stefan Olsson/Svensk Galopp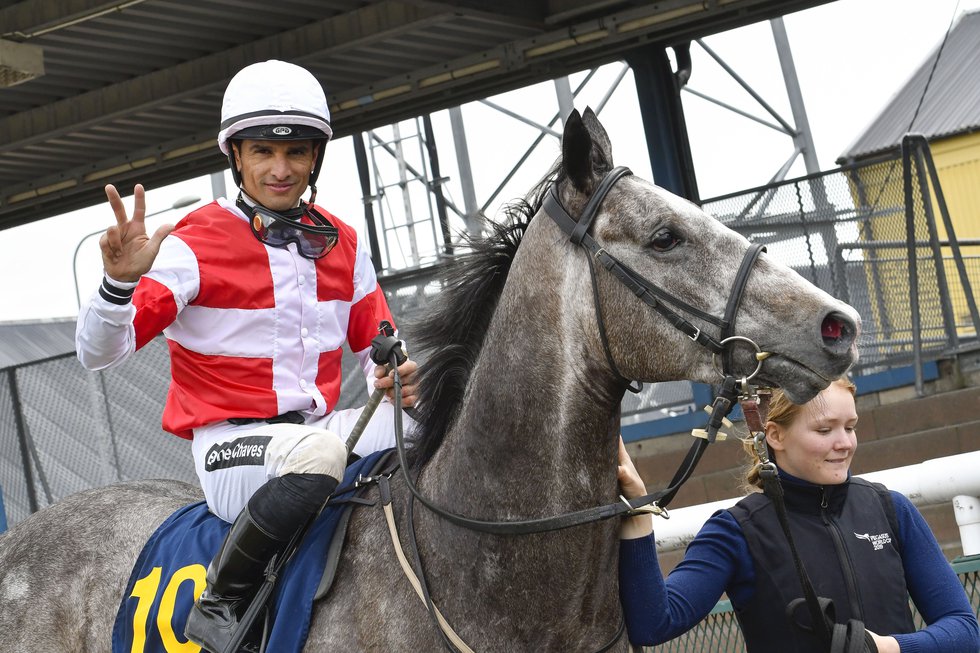 Spring has arrived and with it comes Pramms Memorial (L)
19 May 2022 16:33
Sunday's Meccom Group Pramms Memorial (L) is the best race for older horses at Jägersro. It is traditionally the first big race of the year in Sweden and here we will present the field.
Stroxx Carlras (Footstepsinthesand) won both the Swedish and the Norwegian Derby. This will be his first start as a four-year old and he will have to improve 5 kilo to be involved come the finish line. He has shown that he handles this shorter distance well but to be honest he has yet to show the same speed as some of the competitors. He sold for 65 000 euros at Goffs Orby sale and the mighty Dubawi is the damsire.
Couples (Helmet) is an English import now in the hands of Annika Delinder, a fresh addition to the trainer ranks. Couples was a precious youngster who developed into a seasoned handicapper. He was bought by Francisco Castro at Goffs UK Doncaster for 20 000 pound as a yearling and has earned more than 1,5 million SEK. Improving when you are seven years old is not an easy task but with red hot jockey Andreas Tapia Dalbark in the irons nothing is impossible.
Duca di Como (Clodovil) is one of the most talented horses brought to Scandinavia. He loves the track and the distance and won this race in an impressive fashion two years ago. Last year is considered a "flop" but he was never worse than third in seven starts. He failed to fire in Dubai this year but the stable is in good form and Elione Chaves comes back from the USA for the ride. Duca did cost 42 000 euro at the Goresbridge breeze up. He is the likely front runner and more than capable of leading wire-to-wire.
Ayr Harbour (Harbour Watch) is an English raider from the Michael Appelby barn. Looking at ratings the gelding shouldn't be far away at the finish. Looking at the class of his races it looks like he has got an uphill task. Hiring local star jockey Per-Anders Gråberg seems like a very sharp move and the draw in stall 4 is close to perfect. If he has got enough tactical speed he might be able to cause an upset.
Plantstepsdream (Planteur) has gradually developed into an elite miler. The handicapper puts him on par with Duca di Como which no one would have thought possible two years ago. He breaks fast and loves to be loose on the lead which is not likely today with Duca di Como in the field. The dam, Marie Chez Elle is by Footstepsinthesand and was brought to Sweden from France for 19 000 euros at Arqana (Mares and Foals).
Plata o Plomo (Paddy O'Prado) is a gray American eight year old gelding who won this race back in 2019. He won a race in Dubai in 2020 and has earned more than 3,2 million SEK. He was bought at Keeneland for 30 000 dollars and if he gets involved in the race early on he won't be far away at the finish line.
Wolfof Vancouver is a Canadian-bred gelding by Speightstown out of a Dynaformer mare. He won the first leg of Jägersros own Triple Crown, Voterlöpning which happens to be run over the same distance. He missed by a nose in the Derby but went on to win Hurricanelöpning which is run over 1 mile 5 furlongs and 50 yards. He is by no means an out and out stayer and many people believe that today's distance should be optimal.
Thunderey (Night Of Thunder) was a very promising two-year-old, but didn't meet high expectations during his classic season. Trained by multiple champion Wido Neuroth he has to prove that he belongs in this group. It catches the eye that Wido's son, Jan-Erik has chosen to ride Thunderey instead of No Short Cuts.
Furioso is a Spanish raider that comes from a huge win in St Moritz. He has won on ice, all weather and turf and here he is bidding for a win on the dirt. The form is hard to judge, but the second last start was in a Class 3 at Pau. That form would normally not be any good here, but he carried a lot of weight and won in an easy way. The runner up went on to win next time out as did Furioso. The jack-in-the-box of the race.
No Short Cuts (Will Take Charge) is a beautifully bred American who sold for 160 000 dollars as a foal at Keeneland. He came to Norway, Stall Perlen and Wido Neuroth after they purchased him at Goffs UK Breeze-up for 100 000 GBP. When he won Skåneland as a two-year-old everyone knew that he loved this track and he was the early favorite to win the Derby. He won the Derby Trial by 12 lengths and was the heavy favorite in the Derby where he only managed to finish fifth, beaten by 4.5 lengths. He has not started since august but with his talent and with his connections he should very much be involved.
The card also features Jägersro Sprint (L) over 6 furlongs.
If you are interested in betting on the day we can recommend the Pick 6 wager which has a jackpot this week. You can find more information on ATG's international website.
A digital version of the racecard is available on Issuu.